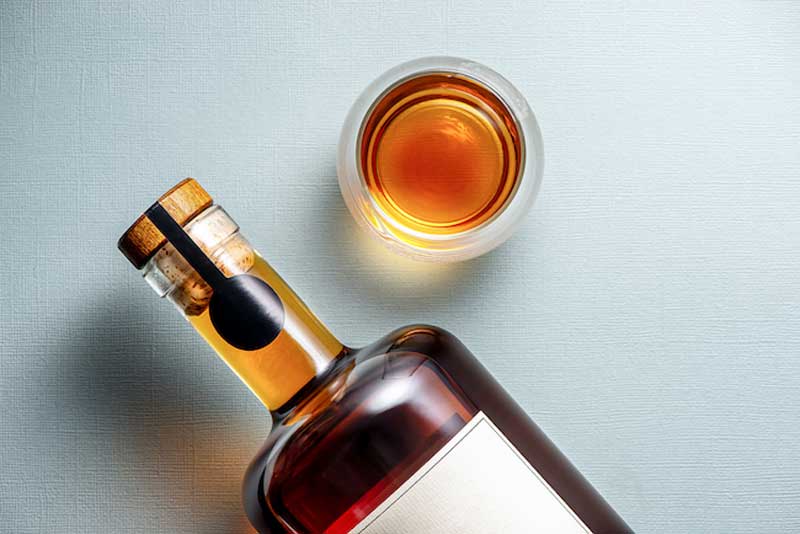 The University of Glasgow joined forces today with distributed ledger blockchain solutions company Everledger Ltd. to produce tamper-resistant bottle tags to track rare Scottish whiskies.
The Scottish Universities Environmental Research Centre today announced that the Glasgow institution that researchers will use provenance techniques during the distillation and bottling processes to provide producers, retailers, auction houses and collectors proof that bottles are authentic.
To do this, the Scotch in each individual bottle will be analyzed using SUERC's proprietary technology, and the bottles will then be protected and connected to the blockchain using Near Field Communication tags, thus holding a digital record certifying the whisky's origin and age.
"This method for identifying fake malt whisky samples extends from the removal of small samples through the cork, to alcohol distillation, high precision analysis and finally, interpretation of the radiocarbon data using a unique calibration curve developed by our laboratory," said Gordon Cook, head of the SUERC Radiocarbon Laboratory and a professor at the University of Glasgow. "This research has been carried out in response to a growing interest in these whiskies that, if genuine, can be worth tens of thousands of pounds per bottle, which may encourage fraudsters to attempt to fake the more expensive brands."
Blockchains operate by certifying transactions into a chain, thus the name, using cryptography to produce a tamperproof historical data record that can be examined in order to transparently track the movement of a bottle according to what sensors connect with the NFC tag. That same chain of data can also include further information regarding the condition of the bottle and sample data regarding its authenticity for provenance purposes.
For example, once distilled and bottled, the NFC tag could connect with a sensor at the end of a conveyor belt before being loaded on a truck, a sensor after being put into a warehouse, a sensor after being placed into a distribution center, and a sensor before being taken out for delivery to a retailer.
With this level of visibility, every test of that bottle would also be stored in the blockchain as data alongside sensor location data. That means that if a bottle had been tested as authentic previously, and now tests as fake, its location data would reveal where it had suddenly become corrupted.
According to SUERC, the market for rare vintage whiskies is growing, with sales of collectible bottles of single malt Scotch reaching a total of $77.8 million in 2018. Researchers estimate that as many as 40% of all rare vintage whiskies in circulation could be fake. During one study SUERC tested 55 bottles of rare Scotch in 2018, of them 21 were either fake or not distilled in the year stated.
In practical terms, alcohol and spirits have attracted the attention of investors to blockchain. For example, Vinsent uses blockchain to do wine futures on the blockchain and eProvenance recently launched VinAssure, a wine shipment monitoring service using the blockchain.
Equally so, industries that face counterfeit dangers attract blockchain interest. Consider Everledger's work with the diamond industry: In August, the company teamed up with China's largest retailer JD.com Inc. on an interchain collaboration with the Gemological Institute of America to certify diamond authenticity and provide track and trace for online diamond purchases.
"Whether it's fine whiskies or precious gemstones, the authenticity and backstory can be equally as important as the item itself," said Leanne Kemp, chief executive of Everledger. "Organizations like SUERC lead the way when it comes to protecting, and increasing, the value of these prized assets, while defending the industry from fraudsters."
Photo: Everledger
---
Since you're here …
Show your support for our mission with our one-click subscription to our YouTube channel (below). The more subscribers we have, the more YouTube will suggest relevant enterprise and emerging technology content to you. Thanks!
Support our mission:    >>>>>>  SUBSCRIBE NOW >>>>>>  to our YouTube channel.
… We'd also like to tell you about our mission and how you can help us fulfill it. SiliconANGLE Media Inc.'s business model is based on the intrinsic value of the content, not advertising. Unlike many online publications, we don't have a paywall or run banner advertising, because we want to keep our journalism open, without influence or the need to chase traffic.The journalism, reporting and commentary on SiliconANGLE — along with live, unscripted video from our Silicon Valley studio and globe-trotting video teams at theCUBE — take a lot of hard work, time and money. Keeping the quality high requires the support of sponsors who are aligned with our vision of ad-free journalism content.
If you like the reporting, video interviews and other ad-free content here, please take a moment to check out a sample of the video content supported by our sponsors, tweet your support, and keep coming back to SiliconANGLE.